The C++ festival of India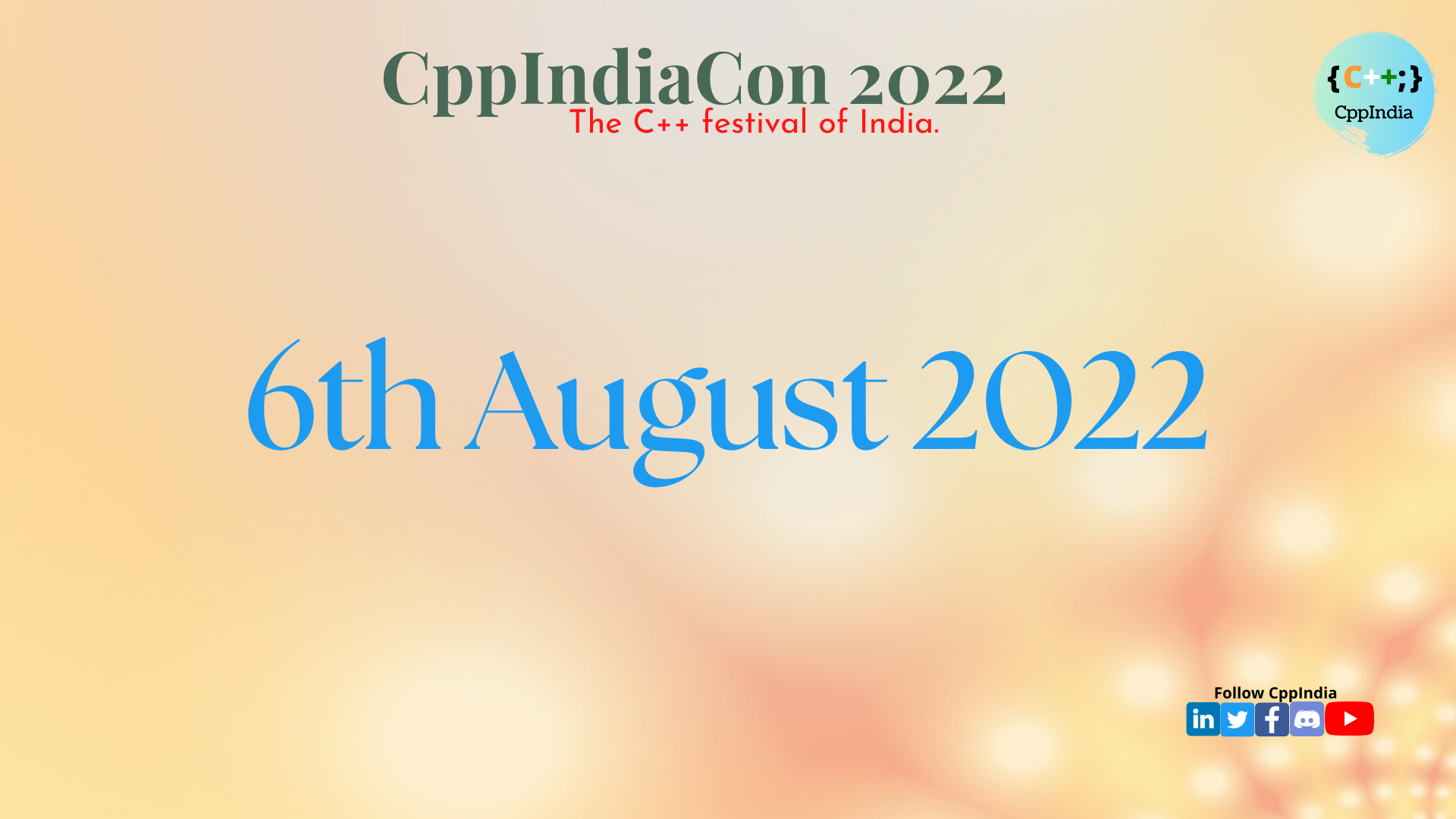 CppIndiaCon - The C++ festival of India is back!
CppIndiaCon is India's premier International Conference hosted by CppIndia. CppIndia is excited to announce the 2nd edition of this International Conference on 6th August 2022.
For our inaugural conference last year, we had talks from the greats of C++, including Bjarne Stroustrup, Bryce Lelbach, and Jon Kalb. Do check out the CppIndiaCon 2021 Speakers.
For CppIndiaCon 2022 too, we have an exciting line-up of talks by Inbal Levi, Greg Law, Mahendra Garodi, Selvakumar Jawahar and Ankur Satle. Check out all about our favourite speakers on the CppIndiaCon 2022 Speakers page.
Registration
Like last year, CppIndiaCon 2022 shall be a free online conference despite the high quality talks from industry experts. Attending requires registration.
To attend, please register here.
Platform and Format
This online conference will be held over Zoom. The link for the all-day conference will be shared over email a few days before the conference. All talks will be held on the same Zoom event. You are suggested to install/update the Zoom client on your device ahead of time to avoid last-minute delay.
Networking and exchange will be done on Discord. Please sign-up and join CppIndia Discord Server when you register for the conference. To prevent last minute issues, please join the Discord server now.
Schedule
This year's schedule has been improvised based on feedback from last year. As against six talks & AMAs in 2021, this year, we are going to have a single track of five talks. This enabled us to increase the Networking time between talks to 30-min, doubling it from CppIndiaCon 2021. The community shall greatly be benefitted by the intense topics at the tech-talks and the close networking opportunities that the conference brings.
Check out the CppIndiaCon 2022 Schedule.
During the Conference
C++ Trivia and Prizes
Be prepared and try not to get stumped by the C++ trivia googlies that our team of enthusiastic volunteers have prepared for you unsuspecting attendees! There shall be prizes to be won from our Gold Sponsors. Do check out their pages and their products.
Industry Connect
Our Gold Sponsors will also have a table set-up during the conference for direct connect with the community. You may try out their products, solutions and offering. Have your resumes handy to make the most of the opportunity.
Networking
We look forward to attendees from all walks of life: including industry leaders, engineers, researchers, students or just interested or exploring. There will be a lot of networking opportunities, bumping into interesting people and learning & sharing from each other.
We will be using Discord for networking. There will be many voice and video tables, open for you to join, discuss and screen-share with other members on the table.
About CppIndia
CppIndia is a community for developers having a mutual interest in C++. It is a welcoming space to learn and discuss C++.
To know more about CppIndia as a community, its vision, and how it works, check out our About Us page.